Trust in the God of Renewal
January 01, 2023 | Robbie Alderman
Passage: Isaiah 40:27-31
Merry Christmas and Happy New Year! I figured there was no better way to kick off a new year than to read some wild and bizarre headlines I saw over the holidays, amen? Not sure if you knew this but there was a Santa shortage this year. I hope your kids were able to still receive their gifts… apparently the economy has taken out a lot of mall and parade Santa appearances. Spam figgy pudding – I am not gonna elaborate here… Word of the Year: Goblin Mode. Strange and ridiculous that the Oxford Word of the Year is two words. How lazy have we become as a society that this was the phrase of the year? Goblin mode describes a way of life that gives people permission to ditch societal norms and embrace their basic instincts like laying around, not showering, and eating whatever you want. Let's descend a little further into the depravity that humanity has become. Licking toads to get high. WW3. Gender and identity crisis.
These are bizarre times and godless times and as Christians, it is hard to deal with it. Maybe we fear getting canceled or missing opportunities to share our faith with people so closed off to God that any mention of Him puts up an immediate wall. It's exhausting and it can wear us out and burn us out quick. So where are you drawing your strength and renewal from? Where are you placing your hope and trust? Last year, we took a great journey as a Church through the book of Matthew. This year, we are going to be looking at a few different books of the Bible but I wanted to kick the year off with a reminder of reality but also an encouragement of hope. Trusting in God is our only hope for making it through 2023 and the years to come. It may seem cheesy, redundant, or overused but it's truth and if you wish to advance the Kingdom and not grow weary in the process, we must place our trust in the God who spoke these words to Isaiah almost 2700 years ago. We are going to be in the book of Isaiah this morning, chapter 40 and while we will be referencing some of what is covered in the whole chapter, we are going to be looking at the final five verses: Isaiah 40:27-31. 27 Why do you say, O Jacob, and speak, O Israel, "My way is hidden from the LORD, and my right is disregarded by my God"? 28 Have you not known? Have you not heard? The LORD is the everlasting God, the Creator of the ends of the earth. He does not faint or grow weary; his understanding is unsearchable. 29 He gives power to the faint, and to him who has no might he increases strength. 30 Even youths shall faint and be weary, and young men shall fall exhausted; 31 but they who wait for the LORD shall renew their strength; they shall mount up with wings like eagles; they shall run and not be weary; they shall walk and not faint. What we see in these verses and in Isaiah 40 as a whole is that despite the wandering of God's people, He is yet again offering them an opportunity to repent and turn back to him.
1. Despite our wavering trust in Him, God is bigger than our lack of faith. Isaiah is a great book of the Bible. If you haven't read it through or studied in depth at any point, I would highly recommend putting it on your list for this year. Isaiah is a great book to read around the Christmas season because he was a prophet who foretold the coming of the Messiah and but it is also a great book to read in the midst of hard times because he was prophesying hope to the people of Israel during times that would've seemed similar to ours. The Assyrian Empire, with the most powerful military in the world, was expanding west from modern day Iran and Israel was in their crosshairs. Similar to World War 3 and all the unrest during our lifetime being a trending subject. Isaiah's ministry as a prophet began at the end of King Uzziah's reign. We get a bit of glimpse into his calling in Isaiah 6 where he sees the destruction of Israel and where God tells Isaiah that Israel will be reduced to a stump. But Israel's stump will be a holy seed that will grow, that holy seed being Jesus, the Messiah. Where we find ourselves in chapter 40 may be Isaiah's writings or it may be a student of his but the message is loud and clear to the Israelites: God is bigger than their lack of faith and has not forgotten them. God is reminding his people of his promises and comforting them despite the horrors surrounding them but He is also reaffirming His position in the universe to them: He is the One who created it and holds it together.
In earlier verses of this chapter we see God asking His people questions as he did to Job. Who else has held the oceans in his hand? Who has measured off the heavens with his fingers? Who else knows the weight of the earth or has weighed the mountains and hills on a scale? Who knows enough to advise the Spirit of the Lord? Did someone teach him what is right or show him the path of justice? There is no problem to big enough for him, nation powerful enough to defeat him, enemy to looming to stand against him. Isaiah 66 says He rests his feet on the earth as a footstool and the Heavens are his throne room. Want to feel even smaller or more insignificant than a resting place for feet? Isaiah 40:15 says He picks up the whole earth as though it were a grain of sand. Have you ever tried to hold one grain of sand? It is almost impossible with how small they are. If you need a pride check this year, then feel the power of those verses and sit in for a moment how small and insignificant you are. If you need encouragement this year because whatever you are facing seems insurmountable, feel the promise of this: God is bigger than it. Whatever it is, He is bigger than it. Quote: "What is massive to us is manageable to God" says Alistair Begg. One of the writers for Hillsong United captures a lot of the imagery in God's questions and statements throughout Isaiah in the song Aftermath. "The skies lay low where you are, on the earth you rest your feet. Yet the hands that cradle the stars are the hands that bled for me." All throughout Isaiah and especially in Chapter 40, God is reestablishing his glory as the focal point of His people and rebuking any small ideas about Him. He is saying that despite you people turning away from me, I am still going to pursue you. If you are sitting here this morning wondering about the relevance of these Old Testament passages and prophecies, look around you. What has attempted to steal the glory of God in our culture? What enemies are threatening invasion in your life? What looming task or roadblock is standing in your way and leaving you feeling helpless that it will not be handled? There are so many things distracting us and trying to pull away our attention from the glory of God.
I've had a fairly stressful year. I have dealt with more attacks from the enemy in more creative and different ways than I have ever experienced this year. It has been exhausting and I have often lost sight of God's glory and been distracted from His presence in 2022. A couple weekends ago, I was invited on a pastor's retreat which involved duck hunting. My favorite part of the trip was not what you might have expected it to be. It was the drive to the duck blind at 4:30 in the morning sitting on the back of a Polaris, staring up at the night sky. It was during that brief commute that God took the opportunity to re-establish his glory as the focal point and rebuke any small ideas or doubts I had about Him. I have always been fascinated by stars and the expanse of space but that weekend God put me in my place and revealed to me what he says in Isaiah 40:12, "I marked off the heavens in the span of my hand." When you look at the night sky and what your entire field of vision contains and then hold up your hand and imagine God seeing it from that perspective, it serves as a comforting reminder that while my problems may seem huge, they are not. While recessions and elections may seem like horrifying big deals, in the grand scheme of eternity, they're not. While the battles of kings and world wars and disputes over territory seem threatening, they're not. The reigns of kings are a drop in the bucket of eternity and are controlled by God. Don't place your trust and faith in them – put your hope in the glorious God of Heaven and Earth who strengthens those who trust in Him. He doesn't just want to reestablish his place in our hearts as being bigger than our problems - He also wants to remind us that our wavering trust does not mean God is far away or far above our everyday struggles and needs. He is personally involved in every aspect of our lives and with us at all times.
2. God is present in our time of need. In verse 27, where our text begins today, Isaiah begins to answer the questions being asked, namely does God see our troubles or is he too massive to see us individually? He asks, "How can you say He ignores our rights and doesn't see our troubles?" And then asks these incredibly famous rhetorical questions, "Have you not seen? Have you not heard?" and then answers. The Lord is the everlasting God, the Creator of all the earth. Isaiah 40 is a mediation on the stunning greatness of God. Isn't it beautiful that before he reminds us that he is with us, he makes certain that we know who he is. The beauty of the whole book of Isaiah is that God puts us in our place, reaffirms His place, and reveals His plan to dwell with us. Let's unpack that. We have an incredible capacity for failure as human beings. Things are bad, enemies surround, and we are arrogant enough to believe that either we can solve it ourselves, stupid enough to succumb to the enemy, or terrified enough to crawl in a hole and give up. Thankfully, we are not doomed to this potential though. But this text also reaffirms God's place: He is in control. He created it all and even though it seems to be spinning out of control, nothing sits outside of His watch and His will. Look at verse 29: "He gives power to the weak and strength to the powerless" Some Christians unfortunately live their days and months and years so defeated because God allows them to – in many ways, that was 2022 for me. They live completely blind to the fact that God wants to be personally involved with them. He wants to carry our burdens and pull us through hard times. But nobody can predict hard times so we have to put our trust in Him at all times.
In 2005, an investor named Michael Burry saw a weak and volatile real estate market bubble about to pop because of weak and unstable lending practices. He predicted a crash and bet $1 billion against the housing market. A couple other investors joined him but for the most part, nobody else saw this coming. In 2008, the real estate market crashed and these men made fortunes. Nobody else saw what was coming though. In fact, people called them lunatics. Hard times aren't super predictable. No one ever predicts that they're going to lose their job or their child is going to get sick. We can see signs of things going bad in the world but either choose to continue to live in ignorant bliss or know there is nothing we can do about it. The reality is we cannot predict hard times but we can put our trust in the God who walks right next to us and lives through the hardest moments of life with us. Isaiah is writing about that hope. He is reminding us of the God who is bigger than all other kingdoms, is the same God who walks with us through trials and anything else and is the same God who is going to send his Son to dwell with us, die for us and then leave us with His Holy Spirit to remind us of his faithfulness and keep us drawn close to Him but also to give us strength to fight and carry on.
3. God is our strength for today and the days ahead of us. What is crazy about these verses is God is telling us we can tap into His strength but we have to be willing to release our pride and recognize our weakness first. Church, this year has been a monumental year for me in learning about my own sin and failures and struggles and how to repent and change. In my personal devotions, I have discovered more about forgiveness, grace, and my own failure as a Christian. I've learned two very important lessons in regards to sin this year. When I am facing temptation, it is a combination of taking 100% responsibility for my actions and choices but also 100% dependency on the Holy Spirit to help me - this means I must take responsibility and confess and repent when I fail but also in the moment of temptation, I have had to learn to throw my hands up and depend on the strength of God's Holy Spirit to pull me through. The other lesson I have learned was from the pastor who led this duck hunting retreat I went on a couple weeks ago and he said this: "I am way more worried about pleasing God than God is worried about being pleased". If I spend all my time worrying about what I am doing wrong instead of focusing on God's grace, I am missing the point. We are all going to get weak and tired church. We are all going to give in to exhaustion, temptation, and failure – God knows this, He knows how weak we are and He knows we will fail. That is why he covers us in the righteousness of His sacrificed Son. When he looks at us, he doesn't see the failure or the sinner. He sees Jesus. So what should our response be when we are tempted and fail? Isaiah is offering the great encouragement in this final verse. Let's look again what the requirement from us is. Read vs. 31 - "Those who trust." – Our response should be to trust!. They will find new strength. They will soar high on wings like eagles. They will run and not grow weary. They will walk and not faint. I love the last little add right here for all of us who are not runners in the room. Somehow my best friend from college convinced me to run the Nashville half again this year even though I said I would never do it again when I ran back in 2018. I am not a runner – I am barely a walker. It takes all my strength to go outside and take my dog for a one mile walk. Sometimes, just walking up the stairs makes me feel like I am going to faint. I love the implication of that last line spiritually for us folks who are just making it by the skin of our teeth. Trust in the Lord, and you will be able to walk without fainting. I am not trying to run a marathon here, church.
Transparently speaking with you all, there are some days where it takes everything in me to get out of bed and face the challenges of the day. But you know what gets me through those days? Reading my Bible. Spending time talking with my mentors and people who encourage me to press on spiritually. Hearing my church lift the praises and songs of my Savior. I know it is a big joke that I am a weepy, emotional mess up here some Sundays like Baptisms or child dedications or just sweet mornings where it sounds like there are thousands of you in here worshipping. That's because there are some mornings where God is literally gripping me in front of all of you and saying, "Hey buddy, I got you! You're okay! You're gonna make it. I know you didn't want to do this this morning but here you are giving me everything you have and that is all I ask for." Giving everything I have for Him. A few weeks ago, I wasn't super excited about 2023 but I began to shift my focus around Thanksgiving. I began to express more gratitude. I began to look more closely at the Messiah who came to die for me instead of my own bizarre life and trials. I began to trust. Not necessarily that 2023 was going to be some amazing year where I achieve everything I want to do and go wherever I want to go. But I began to let go of the things that are out of my control and trust God with my life. And I have a felt a renewed sense of strength the past couple weeks. And I am not talking about will power or some supernatural ability to lift a car and save a baby – I am talking about expectancy. I am going to wait expectantly on the Lord in 2023. I am going to put my hope in Him. I am going to put my trust in Him. I deliberately going to shift the loyalty of my heart from the false glory of this world to the coming glory of the Lord. Confidence in God moves us to surrendering to Him and not surrendering to the circumstances of life. Quote: Ray Ortlund says, "Waiting is what faith does before God's answer shows up." You see, whether your Bible says "wait on the Lord" or "Trust in the Lord" doesn't matter. It means the same thing. It means to live in confident, eager suspense. It means promises revealed but not yet fulfilled. What promises are you waiting on this year? Let me encourage you to not passively wait for those promises but actively wait. Actively waiting is doing the things you can do and making progress however slow and messy that progress looks doesn't matter. What does matter is that it is sustained by the conviction that the display of God's glory in Christ is for you. Is God worth the wait for you brothers and sisters? It is the first day of a new year, there is no better time to decide to place your hope and trust in Him and wait expectantly on Him.
Eight days ago, at our Christmas Eve service, we sang O Come, O Come Emmanuel. We sang a version of it that we have been doing for years and we also released our recorded version of it on our church's Youtube channel. If you haven't heard it yet, go listen to it this afternoon. The arrangement and version captures perfectly what is being discussed in these closing verses of Isaiah 40. The verses are dark and mournful and heavy. There is a burdensome undertone that they are sung with. Even musically, they are in a minor key. "O come, o come Emmanuel – God be with us… ransom Israel from her captivity and exile. These are bizarre times and we are lonely and tired and we will be until the son of God appears. Until then, we rejoice, we rejoice…Emmanuel will come. Even these utterances of "rejoice" are said like someone about to faint – someone who is exhausted but someone who knows what is to come. The song continues with verse 2 and a plea to cheer our spirits with the coming of the Lord. A plea to disperse the gloomy clouds of night and the shadows of death put to flight. Again, the rejoices are mournfully and quietly spoken. Verse 3 is a cry of unity. Bind the nations of the world and stop all of our sad divisions. Be our King and make us a Kingdom of peace. The song then drops into a major progression of rejoicing and you can put yourself in these words and for those first three verses sit in the loneliness and sadness and division and exhaustion just like those who were waiting hundreds of years for the Messiah to come would've bene praying and trusting and hoping. And with these major progressions, they begin to shout triumphantly "Rejoice, rejoice! Emmanuel HAS come!" Fill the streets with palm frons and cloaks – our deliverer is here! He will save us from the Romans and the Assyrians, and the Babylonians and his name is Jesus! We talked about this for weeks on end this fall about how long it took even Jesus' disciples to see that yes, he was the Messiah but this was not his time. The song repeats, "He has come, He has come" and then shouts "He has come!" and it fades back into a minor progression and you can hear the people of Israel screaming this and saying this with such hope even as he hung beaten and bloodied on a cross. When someone challenged him to call down legions of angel armies and save himself, you can almost see the disciples nudge each other and say, "Here we go John. He's gonna do it." But then he breathes his last and "He has come" ends almost as a shriek of despair and lost hope. The song finishes out with another verse and chorus in a minor tone. Church, Isaiah was predicting the coming of the Messiah. He was doing so in times that were bizarre and godless where at every turn, it felt like evil was winning and prevailing. But here is why I challenge you to place your trust and hope in God and wait on Him in faith in 2023 and all the years to come. He is bigger than anything that we will face. He is with us – He is Emmanuel. He is stronger and when we tap into that strength with our faith and hope, we will not grow weary, we will not faint. We will instead find new strength and we will soar like eagles.
Series Information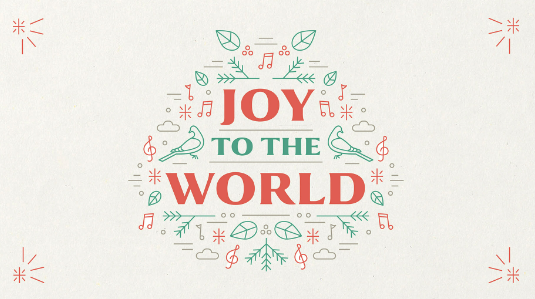 Special series for Christmas 2022 and New Years Day Jan 1, 2023.