Hope-Filled Marriage
February 26, 2023 | Jess Rainer
Passage: 1 Peter 3:1-7
The Roundabout of Marriage: When I lived in NC, the roundabout was a beautiful thing. But then I moved to Tennessee and come upon this roundabout at the Crossings. It took little time to realize that some people have no idea how the roundabout works. Let me give you a few examples: "Mr. Do I go now?" (Timid); "Mrs. 15% off at Target" (Bullheaded); "Mr. Oh, I'm in a roundabout" (Ignorant); "Mrs. How do I get out of this thing?!" (Scared). Let me reframe that roundabout for you. I think so many of us feel the exact same way about our marriage as we do that roundabout. Some of us are timid – we don't really know what our next move should. Some of us are bullheaded – we think we know it all and can fix it. Some of us are ignorant – "What a minute… this is what marriage is?". Some of us are scared – we are just white knuckled hoping that we make it out on the other side. Then there are some of us that kind of have this marriage thing figured out, but we know it's just like a roundabout. And every time you come to it, you never know what you will get, but you know the purpose in it all. We are all going to find ourselves in different places when it comes to marriage. You may be single, you may be divorced, you may be widowed. And for those that are married, there are so many different places we can find ourselves in our marriage. No matter where you fall, God has purpose in marriage. Satan wants you to believe that your marriage will always be stuck in a never-ending cycle. Think National Lampoons European Vacation (not endorsing the movie). "Hey look kids! There's Big Ben and Parliament!" Satan wants you to think that your marriage is hopeless. Because he knows that if you live in a hopeless mindset then your marriage will never realize the hope that God intended for it. Today, I want us, in a short amount of time, to see how much hope God designs for marriage. Here's what we can hold on to today: God wants your marriage to be hope-filled.
We are in the Sermon Series: Hope Fully. Today's passage is 1 Peter 3:1-7. Before I read this passage, let me say something: This passage – or ones similar – may have left you with a really bad taste in the past. This passage has been misunderstood and misapplied. So, before you want to jump out of your seat, let's give this passage 30 minutes and see what God has to say.
1 Peter 3:1-7 [ESV] 1 Likewise, wives, be subject to your own husbands, so that even if some do not obey the word, they may be won without a word by the conduct of their wives, 2 when they see your respectful and pure conduct. 3 Do not let your adorning be external--the braiding of hair and the putting on of gold jewelry, or the clothing you wear-- 4 but let your adorning be the hidden person of the heart with the imperishable beauty of a gentle and quiet spirit, which in God's sight is very precious. 5 For this is how the holy women who hoped in God used to adorn themselves, by submitting to their own husbands, 6 as Sarah obeyed Abraham, calling him lord. And you are her children, if you do good and do not fear anything that is frightening. 7 Likewise, husbands, live with your wives in an understanding way, showing honor to the woman as the weaker vessel, since they are heirs with you of the grace of life, so that your prayers may not be hindered.
Since we paused from 1 Peter last week, let me remind you where we are in Peter's letter. Peter has told the recipients of his letter that they have a status in Christ that gives them an eternal hope. That hope enables them to live their lives in a way with eternity in mind. Two weeks ago, we saw how we, as Christians, can live as worldly citizens in a way that demonstrates the hope of Jesus. We can live under ungodly rulers and unjust treatment in a way that shows the hope of Jesus. Peter now moves to the husband / wife relationship. And there is a posture, attitude, and action that each person can take to move to a marriage that is full of realized hope. He starts with the wife. Here's what we see first: A hope-filled marriage comes from a yielding marriage.
1) A hope-filled marriage comes from a yielding marriage. (vs. 1-6). Alright, let's everyone take a deep breath before we jump into verse 1…1In the same way, you wives must accept the authority of your husbands. Then, even if some refuse to obey the Good News, your godly lives will speak to them without any words. They will be won over . The ESV puts verse 1 as "Likewise, wives, be subject to your own husbands, The CSB puts verse 1 as "In the same way, wives, submit yourselves to your own husbands". You may be thinking, "Jess, why does Peter write about the husband and wife relationship?" Let me remind you that marriage is a God-ordained, God-created institution. God did it so that we can have companionship. And God created marriage as a picture of His relationship to us. Jesus loves the Church, Jesus died for the Church, and Jesus is coming back for the Church. In this God-created institution, God created structure. Peter is describing this structure that exists and it includes a wife coming under the leadership of her husband. In the roundabout of marriage, someone has to yield otherwise it leads to a massive crash.
Let's tackle the biblical meaning and application of "accepting authority, submitting". This is a good definition from John Piper: Quote: "Submission is the divine calling of a wife to honor and affirm her husband's leadership and help carry it through according to her gifts. It's the disposition to follow a husband's authority and an inclination to yield to his leadership. It is an attitude that says, "I delight for you to take the initiative in our family. I am glad when you take responsibility for things and lead with love. I don't flourish in the relationship when you are passive and I have to make sure the family works." – John Piper. Let me be clear: this is no part of biblical submission that makes one person better or greater than the other. This includes the other relationships we've already talked about. Peter makes this abundantly clear about marriage in verse 7: "she is your equal partner in God's gift of new life." I like how the CSB translation puts it: "showing them honor as coheirs of the grace of life". In God's eyes, a husband and wife are spiritual equals. Submission does not refer to the person, but rather the role and function. Part of the function of a wife is coming under the leadership of a husband, but that does not mean the personhood of a wife is less in any way. Having different functions in marriage does not mean that one gender is greater or the other is lesser. We are all God's children. We are all heirs. We are all exiles. We are citizens of heaven. Quote: "A woman was not made out of his head to top him, nor out of his feet to be trampled upon by him; but out of his side, to be equal to him; under his arm to be protected; and near his heart to be loved." – Matthew Henry. Marriage is about a husband and wife coming together with a common purpose and agreeing how to reach that purpose under the leadership of the husband.
Illustration: Rachel and I go Kayaking/Canoeing. Let me flip the script for a minute: What is NOT submission? (from John Piper).
1) Submission does not mean agreeing with everything your husband says. Rachel does not have to kayak into the alligator infested waters. Wives submit to God first. A wife should never do anything that goes against Scripture. I also want to add submission is never about women submitting to men. It's about a wife choosing to follow the leadership of her husband.
2) Submission does not mean leaving your brain or your will at the wedding altar. Rachel is not there just to help paddle.
3) Submission does not mean avoiding every effort to change a husband. Look at the rest of verse 1: "Then, even if some refuse to obey the Good News, your godly lives will speak to them without any words. They will be won over" Peter is writing to Christian women who are not married to Christian men. Following a husband's leadership may indeed change the direction of his leadership.
4) Submission does not mean putting the will of the husband before the will of Christ. If a park ranger tells us to get out and I refuse, she doesn't have to stay in the kayak.
5) Submission does not mean that a wife gets her personal, spiritual strength primarily through her husband. The current under the kayak carries her just as much as me.
6) Submission does not mean that a wife is to act out of fear. Rachel was scared of falling in, but that should never be a motivator for following me.
The whole point of submission is not about what a wife can or can't do, but rather, about what a husband is called to do. Peter follows up verse one with some commentary on about living pure and reverent lives. We don't have time to jump into verses 3 through 6 because we've got to get to the role of a husband! But let these verses serve as a reminder that true beauty comes from who you are in Christ. True beauty comes from who you are, not what you look like. And there's power in that. 2 by observing your pure and reverent lives. 3 Don't be concerned about the outward beauty of fancy hairstyles, expensive jewelry, or beautiful clothes. 4 You should clothe yourselves instead with the beauty that comes from within, the unfading beauty of a gentle and quiet spirit, which is so precious to God. 5 This is how the holy women of old made themselves beautiful. They put their trust in God and accepted the authority of their husbands. 6 For instance, Sarah obeyed her husband, Abraham, and called him her master. You are her daughters when you do what is right without fear of what your husbands might do. Alright husbands, it's your turn… And wives, before you notice that wives got six verses and husbands only got one verse, let me tell you that I've got your back. You may be mad at Peter for the imbalance, but Paul has your back too in Ephesians. Here's what we see next: A hope-filled marriage comes from a sacrificing marriage.
2) A hope-filled marriage comes from a sacrificing marriage. (vs. 7) Take a look at verse 7: 7 In the same way, you husbands must give honor to your wives. Treat your wife with understanding as you live together. She may be weaker than you are, but she is your equal partner in God's gift of new life. Treat her as you should so your prayers will not be hindered. Husbands, let's get real. When you read theses verses, there should be very little excitement in your heart. If your sitting here like, "Yeah, submission, authority, that's great stuff!" Then your heart is in the wrong place. When you read these verses, you should be like, "Oh boy, that's a lot on me." The role of a husband should create more burden than excitement. Your marriage starts with you. Husbands, you have a calling to lead your wife. You have a call to honor her – to treat her with understanding – to see her as a coheir of God's kingdom. Have you ever thought about what that means? There will be a day when your wife will stand face to face with God. You have the calling to prepare her for that day. Husbands, when you are leading your wives in a way that takes their soul into account – when you are thinking about the day your wife stands in front of God – if you are leading for that moment, then we'll all see how the role of husband and wife play out exactly as God intended. If the husband is biblically carrying out his role, then submission takes a back seat in the relationship. I think it's safe to say that most wives have little problem being under the leadership of a godly husband.
What does a sacrificing husband look like? Turn to Ephesians 5.
1) Love her well (vs. 25) 25 For husbands, this means love your wives, just as Christ loved the church. Illustration: 4 Men Golfing, 1 Stops on the Course. The model of love we are given is the way Christ loved the church. That's no small task! It seems impossible! Never stop dating your wife.
2) Sacrifice for her (vs. 25) "He gave up his life for her". Quote: ""The crown a man wears in marriage is first one of thorns." – CS Lewis. Men, how many of you would take a bullet for your wife? Why is it so easy to answer yes to this question? Because we know it's a sacrifice, but it's only momentary. Husbands, how many of you would be willing to do the dishes for the rest of your marriage? Or how many of you would be willing to tell your wife it's okay to interrupt your guy night because she's having a hard time with the kids? Husbands, if you care for your wife deeply, you will die to yourself daily for her.
3) Lead her spiritually (vs. 26) "26 to make her holy and clean, washed by the cleansing of God's word." This might be the area where husbands often fall short, sadly. Husbands, I'll make this simple for you: make sure there is an open Bible somewhere in your house. And along the way, read it and talk to your wife about it.
4) Prepare her soul (vs. 27) "27 He did this to present her to himself as a glorious church without a spot or wrinkle or any other blemish. Instead, she will be holy and without fault."
5) Care for her deeply (vs. 29) "29 No one hates his own body but feeds and cares for it, just as Christ cares for the church."
I don't show you all of this to make you feel guilty. I just don't want you to be content with complacency. I want you to have a marriage that is vibrant, thriving, hope-filled. Satan loves to wedge himself between a husband and wife. Don't let him. If all of this feels overwhelming, let me challenge you to start with you thing: Take your wife on a date and ask her this question: "How is your heart?" And truly listen to what she has to say. Leading your wife's heart deeper into presence of Jesus starts with pursuing her heart. Peter gives us this structure, these roles that place within a marriage. When our marriages are living in God's design, there is so much hope there. It's easy to stop there and say that's all of it, but I want to hit on just one more thing: A hope-filled marriage comes from a God-fearing marriage.
3) A hope-filled marriage comes from a God-fearing marriage. (Ephesians 5:21) Look at Ephesians 5:21: 21 And further, submit to one another out of reverence for Christ. The only way for a marriage to thrive as God intended is for both the husband and wife to live in reverence of God. Each spouse, first and foremost, must live in fear of God. And by fear, Scripture means "awe". The way you grow together as husband and wife is if you are both individually growing towards Christ. Illustration: The Marriage Triangle. Husband -> God <- Wife. Here's why this triangle works: You are to love your spouse where they are. But you should be excited about what they can become in Christ. If you are simply looking at where your spouse is right now and have no desire to see the beauty of what they can become in Christ, then you are missing the purpose of marriage. Some of you are caught in the roundabout of marriage. You are spending your whole marriage just trying to avoid a collision. Get out the car and start going on an adventure together. Climb the mountain. Help each other, encourage each other, lead each other towards hope. I want you to go from hopeless to potential hope to hope-filled. Why? Your hope-filled marriage points a cynical world to Jesus. My marriage got so bad at one point, Rachel and I had a counselor tell us that we should go ahead and get a divorce. We didn't because we made a commitment to each other and to God. And we didn't because I believe God wanted to restore our marriage so that we could tell others that our marriage is all about Jesus. That it's full of a hope that is beyond either one of us. And it's not easy. We have high highs and low lows. But Jesus is in the middle of it all. Let's let Jesus transform our marriages so that we let the hope of Jesus permeate out to a world that needs the hope of Jesus.
Series Information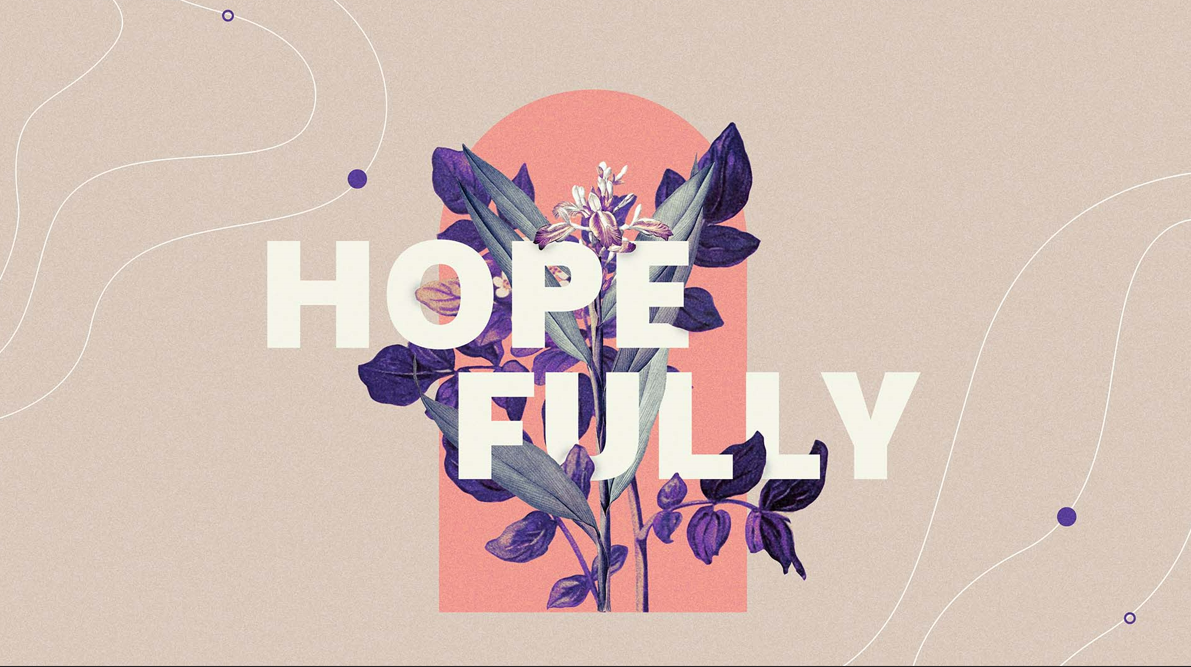 This 13-week series focuses on 1 Peter where we will look at what it means to have hope as sojourners. This chapter points us towards eternal hope. The Christian hope is more than mere optimism that says things will "hopefully" work out. It is a sure hope, and so we "hope fully" (1 Peter 1:13) through every trial and test of faith.