A Community Unlike Any Other
September 25, 2022 | Jess Rainer
Passage: Matthew 18:1-10
Jesus is making His way to Jerusalem, specifically making His way to the cross. Jesus has spent His most recent time with teaching the disciples about faith and what it means to believe in Him. Now, in Chapter 18, Jesus moves back to the Kingdom of God. God's kingdom provides a community unlike any other. Why would someone want to be in God's kingdom? We are in such a temporal culture, that we easily miss the eternal. God's kingdom can be conceptually difficult to grasp. Even the disciples didn't grasp it when Jesus was telling them. They were afraid to ask Jesus. They are finally learning from Peter's antics.
1) In God's kingdom, you can stop the pursuit for greatness. (vs. 1) Before we can get to the question the disciples ask in verse 1, we to see the bigger story that led up to the question. In Mark's gospel, Mark gives us more of the lead up. Right after the transfiguration (which we saw last week), Jesus, James, Peter, and John came down from the mountain and learned the rest of the disciples were unable to heal a demon-possessed boy because they lacked the necessary prayer. Now, we pick up in Mark 9:30: 30 Leaving that region, they traveled through Galilee. Jesus didn't want anyone to know he was there, 31 for he wanted to spend more time with his disciples and teach them. He said to them, "The Son of Man is going to be betrayed into the hands of his enemies. He will be killed, but three days later he will rise from the dead." 32 They didn't understand what he was saying, however, and they were afraid to ask him what he meant. Jesus wants to have some uninterrupted teaching time with His disciples. The cross is looming, time is getting short, and Jesus goes back to His disciples to tell them just that. "Guys, sit down, listen to what I am saying. The Son of Man—me—I am going to be killed, but three days later, I will rise from the dead." We can all sit here and go, "Why can't these guys get this concept through their heads?!" That's one of the blessings we have for being on this side of the empty tomb. They didn't get the idea of the death and resurrection of Jesus because they still had this idea that Jesus was creating an earthly kingdom. And an earthly kingdom can't have a dead king. Look at the response in verse 32: They were afraid to ask him what He meant! Why? Well, do you remember what happened when Peter challenged Jesus about dying? Do you think the whole "Get behind me, Satan!" was on their minds this time? These guys may not understand all the things Jesus was teaching, but there weren't without a brain! I can see Peter reactions when Jesus says this statement. "Excuse, I have to take this call…" And in all reality, they probably didn't want to know what Jesus meant. Because they were afraid of what it meant for them. So, it's clear the disciples still were getting the full picture of God's kingdom. We see more evidence of this.
Now, look at verse 33 in Mark 9: 33 After they arrived at Capernaum and settled in a house, Jesus asked his disciples, "What were you discussing out on the road?" 34 But they didn't answer, because they had been arguing about which of them was the greatest. 35 He sat down, called the twelve disciples over to him, and said, "Whoever wants to be first must take last place and be the servant of everyone else." When the disciples traveled, they didn't all pile in the 15-passenger van. They would walk down dirt roads, probably spaced out. There wasn't a line leader for a single file line. I could see Jesus having a conversation with one or two disciples and the moving on to another. While He is doing this, the disciples are having their own conversations. And no doubt, they are excited about the coming kingdom. And they begin to imagine what it will be like and what they will doing and who will be sitting next to Jesus on the throne. So, Jesus is picking on the conversations the other disciples are having. When they finally reach their destination, Jesus wants to know (as if He didn't already know) what they were arguing about. Mark tells us they didn't answer Him initially, but we see in Matthew they finally asked the question. So, here's the big question in verse 1 of Matthew 18: 1About that time the disciples came to Jesus and asked, "Who is greatest in the Kingdom of Heaven?" We'll get to Jesus' answer in a minute, but here's what I want you to see: In God's kingdom, the greatest has already been named. And His name is Jesus. In God's kingdom, you can stop the pursuit for greatness. The pressure to be great is removed in God's kingdom. You can stop worry about what other people think. You can stop trying to live up to the greatness you've put on yourself. You can stop trying to live up to the greatness others have put on you. You don't have to make the most money, have the most followers, reach the corner office, or bench press the most weight. The reason you can stop those pursuits is because the only pursuit in God's kingdom is of Jesus Himself. God's kingdom is so freeing. Jesus knows this and wants this for His disciples. Here's what we learn next about what it means to be in God's kingdom: In God's kingdom, you can finally let go.
2) In God's kingdom, you can finally let go. (vs. 2-5) When the disciples were jockeying for the greatest position, Jesus could have easily reprimanded the disciples for their focus on themselves. But Jesus doesn't do that. Jesus uses the opportunity to teach them. There is an implied lesson by Jesus not condemning the disciples. Rivalry is not bad in and of itself. Just because we don't have pursue greatness of ourselves doesn't mean that we give up on growing. Spurring each other on is vital to the Christian life. It's good to challenge each other to become more like Jesus. As long as the reason we are growing is for Jesus and not ourselves. So, Jesus decides to teach an object lesson. Look at verse 2: 2 Jesus called a little child to him and put the child among them. Most likely this was a small child, maybe 2-3 years old. We don't know anything about this child. I read one commentary that mentioned this could have been Peter's child. We don't know for sure, but the idea that Jesus is picking up Peter's child would have been weighty after all they have been through and will go through.
As Jesus is holding this child, look at what He says to the disciples. 3 Then he said, "I tell you the truth, unless you turn from your sins and become like little children, you will never get into the Kingdom of Heaven. Children were not only vulnerable and dependent, but they were also considered low in the social status with no prestige. Jesus is look at His disciples, who were arguing about how great they were going to be in God's kingdom, and now telling them that if they even want TO GET IN His kingdom, they have to come without prestige. What Jesus is telling the disciples and us is that there is nothing we can do to earn our way into God's kingdom. The only way to eternal life is to turn away from ourselves and to turn to our Heavenly Father. It's by God's grace alone that we can be free of ourselves. When we finally let go of ourselves, we can jump into the arms of Father that loves us more than we know. Just like a little child running to their father with arms open wide, we too can run to Him. And when we do that, we actually become great. That's what Jesus is saying in verse 4: 4 So anyone who becomes as humble as this little child is the greatest in the Kingdom of Heaven. When we jump into the arms of Jesus, our identity is changed – we become a child of God. Jesus wraps His arms around us. His righteousness surrounds us. God looks at us and only sees His righteousness. And there's nothing greater than being in the family of God. And because we identify with the Father and the Father identifies with us, we welcome God when see each other as children of God. Jesus develops out this relationship even more in verse 5: 5 "And anyone who welcomes a little child like this on my behalf is welcoming me. Jesus wants you to finally let go. Stop the striving, stop the pursuing, stop trying to do things on your own. Give up and let go. God doesn't give up on you in order that you can finally let go.
3) In God's kingdom, you're not alone. (vs. 6-10) What the text says: 6 But if you cause one of these little ones who trusts in me to fall into sin, it would be better for you to have a large millstone tied around your neck and be drowned in the depths of the sea. 7 "What sorrow awaits the world, because it tempts people to sin. Temptations are inevitable, but what sorrow awaits the person who does the tempting. 8 So if your hand or foot causes you to sin, cut it off and throw it away. It's better to enter eternal life with only one hand or one foot than to be thrown into eternal fire with both of your hands and feet. 9 And if your eye causes you to sin, gouge it out and throw it away. It's better to enter eternal life with only one eye than to have two eyes and be thrown into the fire of hell. 10 "Beware that you don't look down on any of these little ones. For I tell you that in heaven their angels are always in the presence of my heavenly Father. When we enter into the kingdom of God – we enter like children with humility and dependency. When we look at each other we should see Christ. The connection then is how we treat each other as Christ followers. These verses show us how we treat each other is so important. We are looking at each other as a son of God, a daughter of God. We should do whatever it takes to keep holiness at the forefront of God's kingdom. At the forefront of the community that exists as citizens of God's kingdom. The only fight in God's kingdom is the fight for holiness.
We should all be committed not only to our own holiness but to the holiness of each other. We should not feel alone. In our culture today, loneliness is everywhere. It permeates. The church family – the big C church – should be a place where we know we get to come and sit with someone who shares the same fight, the same pursuit, and the same idea that this life isn't it. It gets so much better. We need to help each other along the way. That means that if I have something that could tempt someone else, I better cut it out of my life so I do not tempt someone else. Not only do I want to pursue happiness, I want my brother and sisters to pursue holiness. Be in a community group to live this life with other believers. This life is not easy. But it is so much better when you know this isn't it and you are living as a citizen of God's kingdom. There are people around you that are fighting and pursuing and running after the same things that we are in God's kingdom. God cares dramatically about holiness. Stay focused on the aspect that you are a child of God in the community of God's kingdom. We are never going to be perfect in this world. In verse 7, He is saying, sin exists in this world and there is always going to be temptation and because of that there will be sorrow for the world. We need to ask ourselves, where are we? Are we on the outside looking in? Or are we wrapped up in the arms of Jesus? And are we helping others purse and fight for what is right? In God's kingdom, you are not alone.
In verses 6-9, Jesus is looking and telling you to cut out whatever may cause you to sin, whatever causes you not to pursue holiness. We should help each other fight for holiness. We are not alone. In verse 10, He mentions the ministry of angels. We are not alone in this fight. We have the Holy Spirit inside of us, brother and sisters beside us and the ministry of Angels! Are you only focused on what you can see, touch, smell, etc. or are you focused on the eternal? The big picture – you get to be a part of the kingdom of God! You are a part of something eternal. What does it mean to be in God's kingdom? You can finally let go. Stop pursuing greatness, jump in with your fellow brothers and sisters in Christ. Finally, rest in the arms of God!
Series Information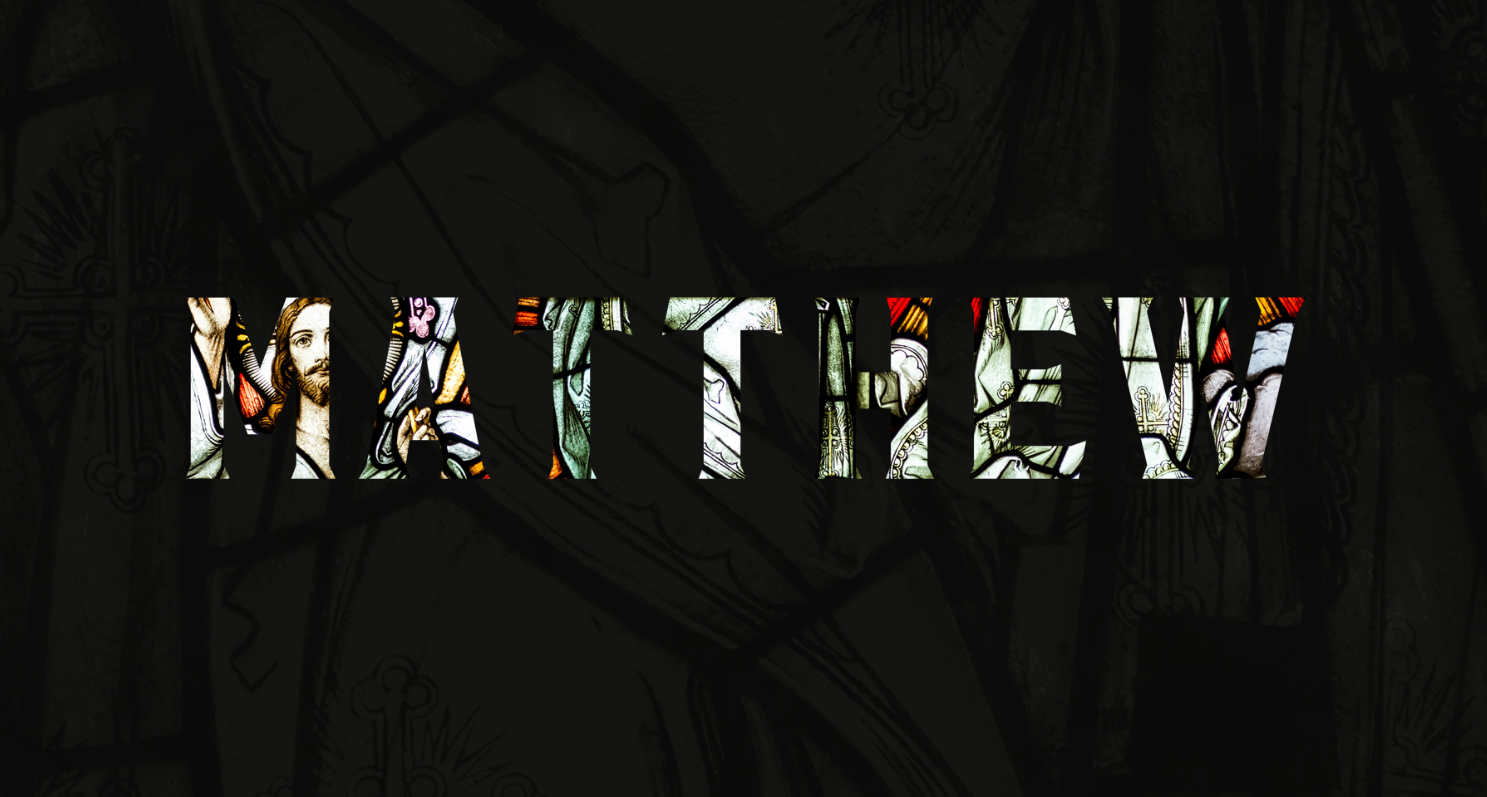 This sermon series will a year long journey through the book of Matthew in 2022. These messages will examine the broader themes in Matthew like God's character, Jesus as the fulfillment of the Old Testament's promises for a Messiah, and the importance of internal integrity over external behavior. It lays out practical application points like the need for salvation, baptism, and repentance. It also provides answers to the question "Who is Jesus?". It invites you to recognize Jesus as God's Son and to receive him as Lord of your lives. This sermon series provides the groundwork for a clear explanation of the Gospel.