Ready and Holy
January 15, 2023 | Jess Rainer
Passage: 1 Peter 1:13-16
Depending on your definition of what it means to get old, I'm noticing that I'm starting to get old. Now before some of you roll your eyes and says, "He has no idea," I said, "starting!" My metabolism is slowing down. The other day, Robbie was in my office and started staring at my hair. He would soon say, "You has more gray hairs up there!" My response: "That's what happens when I work with you." My body hurts in places that they've never hurt before. I'm noticing some new habits in my life too. For past year or so, I've been diligent about making the bed as soon as I get up. There's something so satisfying about neatly tucked sheets. And I hear that it's something millionaires do… I recently started getting my clothes out the night before the next day. Rachel recently looked at me one night and said, "What are you doing?!" She thinks I'm getting more and more particular in my old age. Well, I'm here to tell you my wife watches TV with the closed captions on! And recently went to the movie theater and watched a movie with closed captions! She has no idea what's coming for her…But here's how I see it: I go to bed less stressed because I know everything in the morning is ready. Here's the main thing: I wake up ready to go! There's no thinking or planning – it's get up and go! There's just something about being ready. And that's exactly what we see in our passage this morning. We are about to see that our hope our action – that our hope must be ready and it must be holy. Hope is both ready and holy. Last week was "we have hope because…" This week is "Because of hope, we…" In our new sermon series: Hope Fully, my desire is that our long look into 1 Peter will give you knowledge about the hope you have. I also desire that you learn what you do with the hope you have. I want you to have hope and have it fully. Let's look at what God's Word has to say about our hope being ready and holy.
1Peter 1:13-16 [ESV] 13 Therefore, preparing your minds for action, and being sober-minded, set your hope fully on the grace that will be brought to you at the revelation of Jesus Christ. 14 As obedient children, do not be conformed to the passions of your former ignorance, 15 but as he who called you is holy, you also be holy in all your conduct, 16 since it is written, "You shall be holy, for I am holy."
Peter makes a shift in verse 13. He spent the first 12 verses of his letter explaining to us how God has gifted us hope. When we begin a personal relationship with Jesus Christ, we when accept God's free gift of grace, we are given an eternal hope that can't be shaken. But that hope is going against the grain of the world we are leaving in. That means, our hope will be put to the test. And there are things we can do to ready our hope. Here's the first action we can take: Get up and get ready.
1) Get up and get ready. (vs. 13) Look at how verse 13 stars: 13 So prepare your minds for action and exercise self-control. Put all your hope in the gracious salvation that will come to you when Jesus Christ is revealed to the world. "Prepare your minds for action…" Take a look at how the NJKV put this part of the verse: "Therefore gird up the loins of your mind…" I'm going to go out on a limb and say that none of you have girded up your loins! I can probably go out on another limb and say some of you have no idea that what means. "Gird:" means to cinch or tie up. In biblical times, men wore long robes. To gird up their robes was to take the corners of their robes and tuck them under their belt. It created a "mini-robe" that would enable them to move quickly. And this action was done before battle. Girding up your loins means preparing yourself for action. It's like us saying, "Roll up your sleeves and get to work". Peter takes this mental image and applies it to the mind because there is a battle waging around us for our minds.
We must understand two things as Christ-followers: 1) The spiritual battle exists. Satan wants to you to be ignorant. He works better when you don't know He's working. CS Lewis captured this idea in his book The Screwtape Letters. Quote: "I do not think you will have much difficulty in keeping your patient in the dark. The fact that 'devils' are predominantly comic figures in the modern imagination will help you. If any faint suspicion of your existence begins to arise in his mind, suggest to him a picture of something in red tights, and persuade him that since he cannot believe in that (it is an old textbook method of confusing them) he therefore cannot believe in you." ―S. Lewis, The Screwtape Letters. As exiles, we must know the battle exists. 2) You must take the spiritual battle seriously. Peter will soon write in this letter that Satan is like roaring lion, waiting to devour its prey. Being a Christian and not knowing there is a spiritual battle is a badminton player jumping into the middle of an NFL game. Your little racket and birdie isn't going to do anything against a 250 pound linebacker. God is telling us to wake up and get up! The best way to give Satan an advantage over you is for you to be spiritually lazy. Put on the armor God. Devour scripture. Pray relentlessly. Lead your family. This isn't some chess match where Satan is just waiting on you to make the next move. He's going to make his moves no matter what you do. Get up and get ready. Peter knows the way the devil works. Satan loves to draw you away from Jesus. Satan loves for you to look away from Jesus and back into worldly desires. That's what we see next: Don't look back.
2) Don't look back. (vs. 14) Let's look at verse 14: 14 So you must live as God's obedient children. Don't slip back into your old ways of living to satisfy your own desires. You didn't know any better then. What does Peter mean when he says, "old ways of living?" This is life before meeting Jesus. This is life before becoming a Christian. Look how Peter describes this life: "living to satisfy your own desires." A life apart from Christ is a life that is looking for the next high. It's an endless pursuit of happiness that never lasts. Now, there's nothing wrong with being happy – that's a good thing – it's an emotion that God created. But happiness apart from Christ never satisfies and never lasts. That's why there is never an office big enough. There is never a car luxurious enough. There is never a bathroom HGTV worthy. There is never enough images to look at. There is never enough power. There is never enough money. The life before Jesus – apart from Jesus – is never enough. But when you meet Jesus, everything changes. You stop living for yourself. What you know now changes the way you saw how you were living before. Peter tells us not to look back at that old way of living. Satan will try to lure you back in.
My Acid Reflux[1] Last year, I developed something called silent reflux. I told you I am getting old! It was such a weird feeling in my throat – it really messed with me mentally! I kept doing things to make the feeling go away. Drinking, eating, massaging. When I met with the doctor, he told me to stop doing all of those things because they weren't helping. I know now that I can't fix it with a bowl of cereal right before bed. That Cinnamon Toast Crunch still calls my name at 10:30pm, but I know better. Satan knows the spiritual game. He's going to float the Cinnamon Toast Crunch in your face and convince you one bite won't hurt. Let me give you another quote from CS Lewis. Quote: "It does not matter how small the sins are provided that their cumulative effect is to edge the man away from the Light and out into the Nothing. Murder is no better than cards if cards can do the trick. Indeed the safest road to Hell is the gradual one--the gentle slope, soft underfoot, without sudden turnings, without milestones, without signposts." ―S. Lewis, The Screwtape Letters. Your hope must be ready and holy. You must know that Satan is coming with those tactics and you are doing to be ready for them because you want that holiness.
What causes you to want to look back to old way of living? I would venture to say we look to sin to soothe. There is a feeling inside of us that we don't like, and we turn to something other than God to just coat the feeling for a minute. Do you know the problem with that? The feeling doesn't go away. And we live in this cycle of self-soothing instead of pursuing. That raises another question: where is this feeling coming from? I read another sermon this week and there was one question that was a gut-punch to me. And you all know when I get a gut-punch, then I get to share it on Sunday with you! Here's the question: What promise do you feel like God has to answer for you to have hope? We believe that there is something in this world that we need to feel happy. Health, Money, Power, Relationships, etc. There is something we are waiting for God to provide that will give us happiness. But when we don't get it, it creates this void. And when we feel that void, we turn to find something to soothe. What Satan wants you to believe is that God must provide you with something to make you feel happy. What Peter is writing is that God has given us everything we need – the GOSPEL! Our hope needs to be in who God is and what God is doing in and through us. Knowing that God loves us, is for us, and working everything out for His purpose is satisfying enough. Get up and get ready. Don't look back. And now, as we move forward, be out of alignment with the world. And that's exactly what Peter writes next! We are to pursue holiness. The problem with that pursuit is that it will look weird to the world. That's okay. Be out of alignment.
3) Be out of alignment. (vs. 15-16) Look at verses 15 and 16: 15 But now you must be holy in everything you do, just as God who chose you is holy. 16 For the Scriptures say, "You must be holy because I am holy." Now, that I will admit that what Peter writes is much bigger than simply being out of alignment with the world. "Be holy in everything you do" is a big command. Let's start off with what it means to "be holy". The Hebrew word for "holy", kodesh, comes from the root word "Kadash". In simpler terms, it means to be set apart for a specific purpose. Separated, separate, set apart – that's holiness. When God tells us to be holy in everything we do, we are called to be separate from the world – separated from sin. Our holiness should lead to wholeness. Separating away from sin will lead to purity. If we don't pattern holiness in our lives, we are opening the door for the pattern of sin. That means we must do things that looks different than those around us. When hope of Jesus is lived out, it looks different. You might have to tell a co-worker that you don't want to see those pictures. Or telling the other lady at the gym that you aren't going to say those things about other people. Maybe it's not changing a few numbers on your tax returns.
Cows vs Buffaloes in Storms[2] When a storm comes, cows and buffaloes react differently. Cows run away, scatter apart from each other. Buffaloes huddle together and walk into the storm. The cows are left to fight the storm, alone, with their backside exposed. The buffaloes have extra protection because of the buffalo next to them. And because their fur is thicker on the front. Finally, because they walk into the storm, it shortens their time in the storm. What seems crazy to every other animal is what is beneficial to them! Be like the buffaloes! Remember, we are exiles, but we are exiles together. We need to band together to help each other stay holy and stay strong. Please get in community! When we all pursue holiness together and help each other pursue, it will be out of balance with the world. But we will be in step with Jesus! And there's so much hope in that place. Holiness seeks to break the pattern of sin. And the way we break the pattern of sin is by becoming more enamored with God. This is a long quote, so follow along closely…Quote: "The pattern of holy living cannot be reduced to a limited number of 'holy' actions. God's righteous deeds flow from his holy nature; holiness patterned on his must express transformed hearts. On the one hand, this seems to set an impossible standard: how can we be like the holy God? On the other hand, there is a marvelous simplicity in a holiness patterned on God himself; it does not require an encyclopedic grasp of endless directives and prohibitions. It flows from the heart; its key is love. To be holy is to love the Lord our God will heart, soul, strength and mind, and to love our neighbor as our elves." – Edmund Clowney.
[1] https://summitchurch.com/GetFile.ashx?Guid=ef358602-c492-43a1-83f2-680204decf46
[2] Idea from https://summitchurch.com/GetFile.ashx?Guid=ef358602-c492-43a1-83f2-680204decf46
Series Information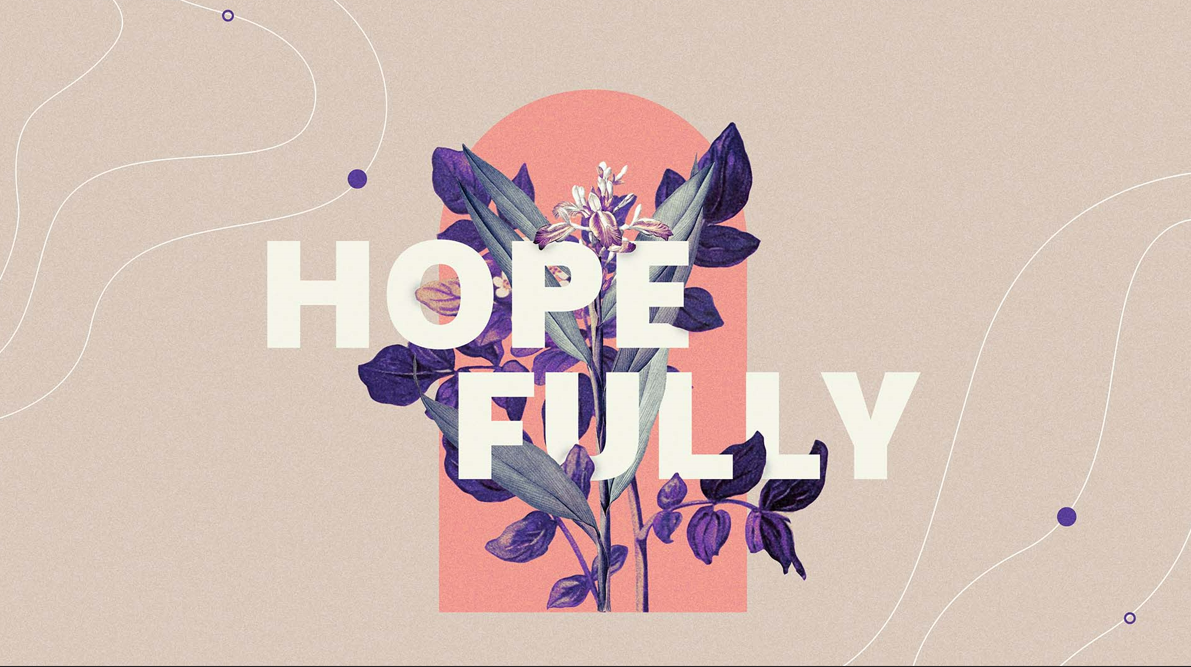 This 13-week series focuses on 1 Peter where we will look at what it means to have hope as sojourners. This chapter points us towards eternal hope. The Christian hope is more than mere optimism that says things will "hopefully" work out. It is a sure hope, and so we "hope fully" (1 Peter 1:13) through every trial and test of faith.